𝗗𝘆𝗻𝗮𝗺𝗶𝗰 𝗙𝗼𝗿𝗺𝘀 𝗳𝗼𝗿 𝗦𝗮𝗹𝗲𝘀𝗳𝗼𝗿𝗰𝗲 𝗙𝗹𝗼𝘄
Starting with Summer '21, you can build flow screens faster by leveraging your org's fields with just one click. With Dynamic Forms in Salesforce Flow, you can simply drag a record field onto a flow screen, and everything is automatically configured for you.
Your flows will also stay consistent with your Salesforce objects because any changes to your fields in Object Manager are automatically inherited by the record fields in your screens.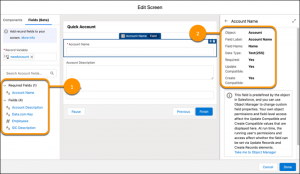 Dynamic Forms in Salesforce Flow is production quality but has some limitations. With the Summer '21 Release, it supports a subset of the fields.
1. Checkbox
2. Date
3. Date/Time
4. Number
5. Long Text Area
6. Text
Get complete Roadmap To Learn Salesforce Admin And Development 👇