Workbench is a powerful, web-based suite of tools designed for administrators and developers to interact with Salesforce.com organizations via the Force.com APIs. Workbench includes robust support for the Force.com Partner, Bulk, Rest, Streaming, Metadata, and Apex APIs that allows users to describe, query, manipulate, and migrate both data and metadata in Salesforce.com organizations directly in their web browser with a simple and intuitive user interface. Workbench also provides many advanced features for testing and troubleshooting the Force.com APIs, such as customizable SOAP headers, debug logs for API traffic, backward compatibility testing with previous API versions, and single sign-on integration within the Salesforce application.
Problem:
When a user without permission to access Workbench, the user will see an error message when trying to login to Workbench  OAUTH_APP_ACCESS_DENIED: user is not admin approved to access this app.
Solution:
Profile
Go to the respective profile to which you need to provide them access.
Click Edit and look for the Connected App Access
Tick the checkbox in front of the Workbench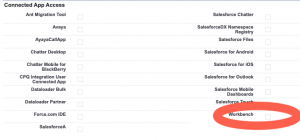 Permission Set
Create a Permission Set
Add the respective user to the Permission Set and click Assigned Connected Apps
Click edit and Add Workbench to the Enabled Connected Apps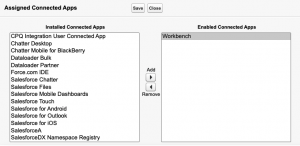 Note: Make sure you should be clear with the requirement like whom you need to provide access to All Profile Users or any Particular user.
Get complete Roadmap To Learn Salesforce Admin And Development 👇