The Salesforce Sales Representative Certification is for professionals possessing a comprehensive understanding of the sales process.
Additionally, they should be able to demonstrate proficiency in various areas including planning, conducting customer and prospect research, making forecasts, and effectively closing deals with a focus on value.
About the Exam:
The Salesforce Sales Representative Certification exam is a multiple-choice test that covers the basics of Salesforce functionality.
The exam consists of 60 questions and must be completed within 105 minutes.
Passing score for this exam is 70%.
The exam can be taken online or

at onsite testing centers.

The registration fee for the exam is USD 200 plus the applicable taxes required as per local laws.
This exam has USD 100 plus the applicable taxes for re-attempting the exam.
The exam is proctored by an invigilator ensuring that the certification holds a high level of credibility.
There is no prerequisite required to be completed this exam.
No material should be referenced during the exam.
Annually, you will need to finish the Sales Representative certification maintenance module on Trailhead.
Topics covered in the Salesforce Sales Representative Certification exam:
1. Planning – 21%
Explain what goes into sales territory planning.
Come up with a plan to connect with important customers.
Determine how likely sales goals are to be met by analyzing data on accounts, territories, and potential customers.
Build strong relationships and partnerships with key individuals and groups to grow the business.
2. Customer Engagement – 15%
Establish yourself as a leader in your field and gain trust to change the customer's perspective.
Use various touchpoints to create interest in potential customers and help them see why a solution is right for them.
Cultivate relationships and encourage the use of products to ensure customers get the most value possible.
3. Deal Management – 37%
Determine how to assess a potential customer before advancing through the sales process.
Analyze a customer's business strategies, objectives, challenges, and initiatives to establish the solution's scope.
Create and present a solution's value proposition based on the customer's needs.
Identify and overcome any obstacles to finalize the sale.
Secure customer commitment and formally close the agreement.
4. Pipeline Management – 12%
Discover and create new sales opportunities.
Review pipeline analytics to verify data accuracy and enhance customer engagement.
Describe pipeline development and how quickly deals move through each stage.
5. Forecasting – 6%
Evaluate the accuracy of sales forecasts to maintain consistent opportunities.
Gauge the potential risks and benefits of a business agreement.
Describe the critical factors that influence the forecasting procedure.
6. Customer Success – 9%
Determine the steps necessary for order booking and fulfilment.
Identify the process a customer experiences after a sale is completed.
Evaluate the value a customer receives compared to what they expected.
Job roles for Sales Professionals in Salesforce
Business Development Representative
A Business Development Representative (BDR) is someone who works in sales and looks for new business for their company.
They find and talk to potential customers through cold calls, emails or other ways of reaching out.
The BDR's job is to set up meetings for the sales team so that they can finalize deals.
Account Executive
An Account Executive is someone who is a sales professional and focuses on building good relationships with customers.
They look for people who might be interested in buying their company's products or services and try to sell to them.
The main goal of an Account Executive is to increase revenue for their company by selling more products or services and building long-term relations with the customer.
They work with other members of the sales team, such as Business Development Representatives, to come up with ways to sell more things.
Sales Leader
A Sales Leader is responsible for managing and leading teams of Account Executives (AEs) and Business Development Representatives (BDRs) to achieve sales goals.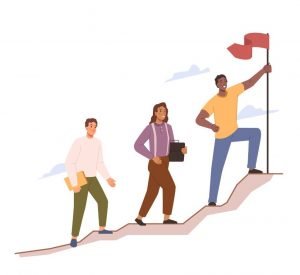 A Sales Leader's job is to make sure sales goals are reached, problems in the sales process are solved & to create a happy workplace where employees feel motivated.
Sales Operations
Sales Operations is the set of strategies and activities that help sales teams be more effective.
It involves the use of technology, data, processes, and enablement programs to empower sales teams and help them succeed.
The main goal of Sales Operations is to make sales processes more efficient, improve sales performance, and provide sales teams with the tools and resources they need to achieve their targets and generate more revenue.
Resources you can refer to for Salesforce Sales Representative Certification Preparation:
Selling with Sales cloud specialist Superbadge
Prepare for Your Salesforce Certified Sales Representative Credential Trailmix
Drive Sales with Operational Excellence Trailmix
Salesforce is developing a thriving community of Sales professionals intending to create a unified platform that enables individuals to connect, learn, and progress in their careers 📈
Join the Salesblazer Movement here
Wondering how to register for the Salesforce exam? Check out the blog below👇
Get a complete Roadmap To Learn Salesforce Admin And Development