In this blog post, we will explore how to learn Salesforce Flows, different resources that you can follow and highlight the importance of this valuable automation tool.
With the retirement of Workflow and Process Builders lined up, Salesforce Flow will be the only automation tool available.
Whether you are an administrator, developer or business analyst, understanding Salesforce Flows can  enhance your capabilities of solving complex business problems using the point-and-click approach.
Resources to learn Salesforce Flows
1. Trailhead
Trailhead has transformed online learning in the Salesforce ecosystem by offering a unique, interactive experience with engaging content and hands-on challenges.
Users can explore guided learning paths called trailmixes that comprise of modules and projects that enable the practical application of knowledge.
With its gamified approach, Trailhead revolutionizes professional learning within the Salesforce community, catering to beginners and experienced professionals with diverse learning paths dedicated to specific career verticals.
Trailhead offers modules for each Flow topic, from Salesforce Flow basics to advanced concepts like Flow troubleshooting and testing.
Embark on your learning journey of Salesforce Flow by following this custom trailmix Complete Salesforce Flow Trailmix
2. Salesforce Documentation
Salesforce documentation is your one-stop solution for all your needs, whether you want to learn about specific Salesforce features or find solutions for your client.
It is a valuable reference guide for Salesforce professionals providing guidance on best practices, configuration options and troubleshooting techniques.
To access the official Salesforce Flow documentation, Click here
3. Online Courses
For those aiming to master Salesforce Flows, online instructor-led courses and YouTube videos are  valuable resources.
They provide comprehensive guidance, step-by-step instructions and real-world examples for individuals eager to explore the potential of Salesforce Flows.
To explore different Salesforce Flow scenarios on our YouTube channel, click here
The step-by-step guidance and explanations help learners grasp complex concepts while offering practical insights into the implementation process.
Online instructor-led courses and YouTube videos offer flexible learning options, allowing learners to access resources at their convenience and pace, making it easier to accommodate studies within busy schedules.
Learners have the opportunity to interact with instructors, ask questions, and get clarity on complex topics.
Moreover, you can connect with other learners and learn from each other's challenges and successes. This enables a supportive learning environment that promotes growth and development.
Looking for an Instructer-led Complete Salesforce Flow course? Click here
Why you should join this course?
Simple teaching style
Life-long access
The course is regularly updated to align with the latest Salesforce releases, ensuring the course relevance continues for the learner.
4. Salesforce Releases
Salesforce releases are scheduled updates introduced three times a year by Salesforce to elevate and enhance their CRM platform's capabilities.
Every release focuses on resolving known bugs, issues, and vulnerabilities, resulting in a more stable and dependable CRM system.
By carefully addressing these concerns, Salesforce ensures a seamless user experience while minimizing the potential disruptions to critical business processes.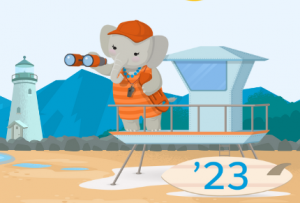 By analyzing Salesforce releases, you can gain an understanding of the latest features, functionalities, and improvements.
This knowledge empowers you to offer valuable insights and recommendations to your teammates and clients.
You can get your hands dirty on these new features by creating a pre-release org before they are available in the sandboxes.
Checkout the summer'23 Salesforce release Flow features & enhancements here
5. Blog Posts and Articles
Blog posts & articles written by experienced Salesforce professionals provide access to valuable insights  for those learners who are ardent readers and often prefer to learn new things from textual resources.
It provides detailed, step-by-step tutorials for different Flow business scenarios and best practices.
By following these tutorials, you can learn at your own pace and gain practical experience in building flows using the provided instructions.
Advantage of learning Salesforce Flows
With the retirement of Workflow and Process Builder lined up, knowing Flows will be a must-have skill for any Salesforce professional.
One of the advantages of learning Salesforce Flow is its ease of maintenance, as individuals familiar with Flows can easily understand and continue working on the existing build while making further enhancements.
Salesforce Flow ensures the long-term sustainability and scalability of your automation processes.
Salesforce Flow's debugging tools assist in error analysis and validation. They provide real-time feedback on error messages, allowing you to identify the root cause of issues quickly.
To learn about the Salesforce Flow best practices, click here
Get a complete Roadmap To Learn Salesforce Admin And Development 👇