The Salesforce Business Analyst Certification exam is intended for individuals seeking to build a career as a Salesforce Business Analyst.
Who should take this exam?
The candidate who possesses a strong understanding of Salesforce best practices and demonstrates proficiency in various areas such as planning discovery activities, mapping business processes and effectively crafting user stories.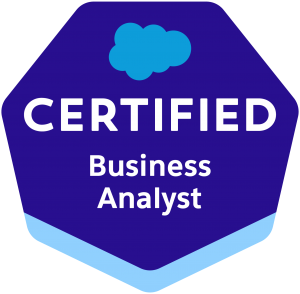 About the Exam:
The Salesforce Business Analyst Certification exam is a multiple-choice test that covers the basics of Salesforce functionality.
The exam consists of 60 questions and must be completed within 105 minutes.
The passing score for this exam is 72%.
The exam can be taken online or

at onsite testing centers.

The registration fee for the exam is USD 200 plus the applicable taxes required as per local laws.
This exam has USD 100 plus the applicable taxes for re-attempting the exam.
The exam is proctored by an invigilator ensuring that the certification holds a high level of credibility.
There is no prerequisite required to be completed this exam.
No material should be referenced during the exam.
Annually, you will need to finish the Salesforce Certified Administrator maintenance modules on Trailhead.
Topics covered in the Salesforce Business Analyst Certification exam:
1. Customer Discovery – 17%
Assess business strategies, goals, initiatives, and challenges to establish the scope of business analysis.
Investigate how customers are utilizing Salesforce products and benefiting from them to determine the existing state.
Explain the responsibilities and roles of Business Analysts throughout various stages of the implementation lifecycle.
Employ the implementation lifecycle to plan business analysis activities effectively.
Evaluate the customer's Salesforce environment to identify constraints and opportunities.
Exhibit proficiency in Salesforce capabilities and provide recommended solutions to address business needs.
2. Collaboration with Stakeholders – 24%
Strategize and organize discovery activities tailored to the relevant stakeholders to conduct a comprehensive analysis of business requirements.
Recognize key stakeholders and cultivate trusted advisor relationships, serving as a bridge between business and technical teams.
Evaluate different scenarios and select the most appropriate technique for extracting business needs from stakeholders.
Outline the process of transitioning from an analysis of the current state to designing an agreed-upon future state.
Gain an understanding of how Salesforce features and best practices influence solution options and impact business processes.
Effectively navigate conflicting priorities to obtain stakeholder sign-off, given a specific scenario.
3. Business Process Mapping – 16%
Exhibit the ability to outline the scope of a complex business process and segment it into manageable steps.
Utilize knowledge of hierarchical process mapping to effectively engage stakeholders across various levels within an organization.
Conduct a thorough analysis and documentation of a business process to extract requirements and identify the necessary resources for visualizing a future state.
Implement governance measures on agreed-upon future state processes to maintain scope control.
4. Requirements – 17%
Differentiate between requirements and user stories to effectively involve both business and technical stakeholders.
Validate and prioritize current requirements, while also identifying new requirements to shape the future state.
Record requirements in a version-controlled repository for efficient scope management.
5. User Stories – 18%
Gain a comprehensive understanding of the elements comprising a user story to conduct a comprehensive analysis.
Differentiate between acceptance criteria and the definition of done to highlight their distinct purposes.
Record user stories in a version-controlled repository as a means of scope management.
6. User Acceptance – 8%
Establish and create the User Acceptance Test plan to ensure that the solution aligns with the business requirements.
Provide guidance and oversight during the User Acceptance Testing (UAT) phase to effectively manage the outcomes and verify if the solution meets the requirements.
When faced with new business or technical issues, evaluate the scenario and make informed go/no-go release decisions.
As a Salesforce Business Analyst, your responsibilities and tasks include:
Business Process Analysis
Examine current business processes and workflows, identify opportunities for enhancement and propose Salesforce solutions to streamline and enhance business operations.
Requirement Gathering
Engage with stakeholders, business users and project teams to collect and record business needs for Salesforce implementation or enhancement projects.
User Training and Support
Deliver training and assistance to end-users regarding Salesforce functionality and features to ensure effective adoption and utilization of the system.
Communication and Collaboration
Act as a link between business stakeholders, project teams and technical teams, making sure that requirements, project updates, and risks are communicated effectively.
Testing and Quality Assurance
Create test plans and ensure that Salesforce solutions meet the defined requirements and quality standards through validation.
Some common job roles for Salesforce Business Analyst professionals are:
Salesforce Functional Consultant
Business Analyst professionals in this position collaborate closely with clients to comprehend their business requirements, align them with Salesforce capabilities, and customize Salesforce solutions accordingly.
They offer recommendations on optimal approaches, create business process designs, and ensure efficient utilization of Salesforce features.
Salesforce Solution Architect
Business Analyst professionals have the opportunity to advance their careers to become Salesforce Solution Architects. As Solution Architects, they assume the responsibility of developing comprehensive Salesforce solutions.
They offer strategic direction, lead technical teams, and supervise the execution of Salesforce solutions from start to finish.
Salesforce Project Manager
Business Analyst professionals equipped with project management expertise can transition to the position of a Salesforce Project Manager.
As Salesforce Project Managers, their primary responsibility is to oversee and manage Salesforce projects, ensuring the completion of project deliverables, and supervising the project team's work.
They are accountable for ensuring the successful implementation and deployment of Salesforce solutions within predetermined timelines and budgets.
Resources you can refer to for Salesforce Business Analyst Certification Preparation:
Prepare for your Salesforce Business Analyst Credential Trailmix

Salesforce Business Analyst Certification Preparation module

Business Administration Specialist Superbadge

Salesforce Business Analyst Tutorials by Ben Analyst
Get a complete Roadmap To Learn Salesforce Admin And Development