In this blog, we'll provide you with a simple yet comprehensive overview of the key highlights from the Dreamforce 23 Admin keynote, making it easy to grasp the transformative power of these announcements.
The Dreamforce 23 keynote established the groundwork for a transformative year ahead. Let's take a look at the key takeaways and highlights that are already making waves.
The Admin keynote was subdivided into three major areas of innovation:
1. Automate Processes
a. Reactive & Dynamic Screen Components
Reactive Screens are a game-changer that allows all admins and developers to enjoy incredible flow experiences. This concept places emphasis on real-time, context-aware interactions for users, offering them highly personalized and dynamic screens that can adapt to their needs.
b. Transform Element(Beta)
Determine the flow resources that are needed to map and transform source data to target data. The Transform element can be utilized in screen flows and auto-launched flows with no triggers.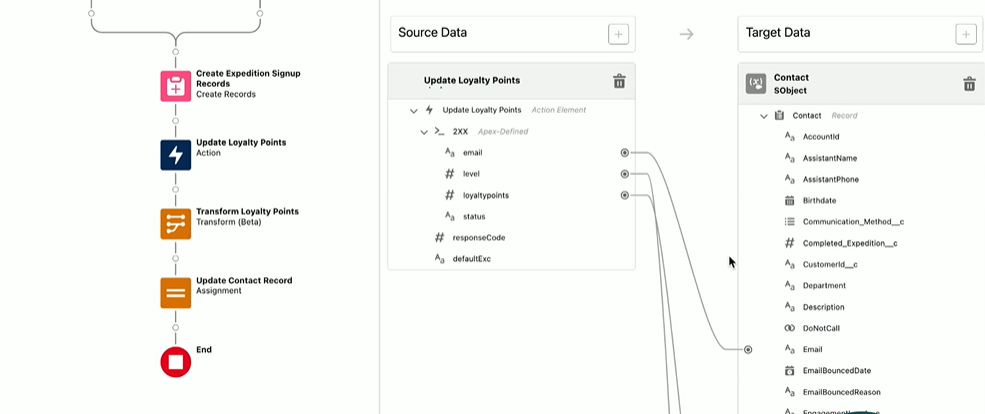 c. Einstein for Flow
Einstein for Flow facilitates the automation of tasks based on AI-driven insights, enabling organizations to offer more personalized and effective services and outstanding customer experiences while streamlining their operations.
You can just draft the requirement and let AI do the rest!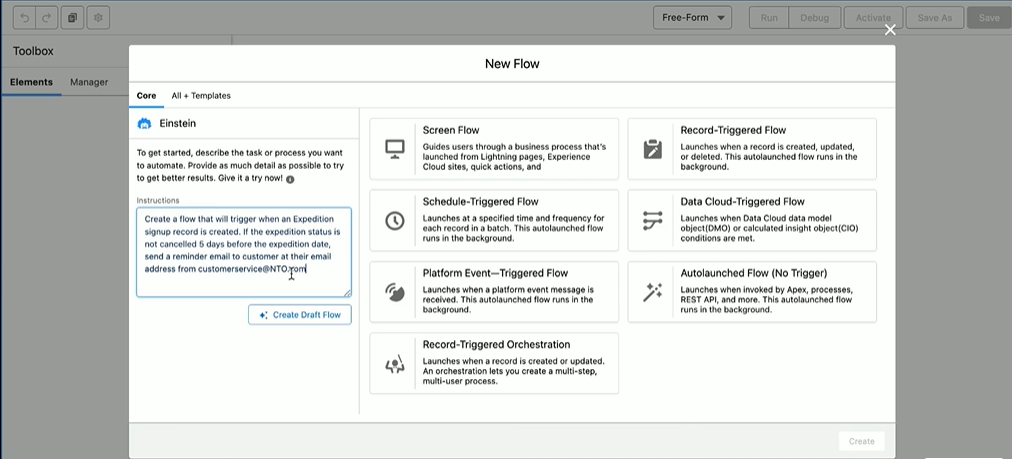 2. Build Solutions
a. Mulesoft Composer
Another existing feature was Mulesoft Composer which is all about integrating with third-party applications with just a few clicks and no code. It's straightforward to click, authenticate and configure.
Check out: Automate your Business with Mulesoft Composer
Image Source – Salesforce
b. Data Cloud Triggered Flows
This is like a smart system that automatically responds to changes in your data. It launches when Data Cloud data model object (DMO) or calculated insight object (CIO) conditions are met.
Want to Learn Salesforce Flows? Checkout our Salesforce Flow Course

3. Supercharge Productivity
Supercharge Productivity is all about User Management and Designers Mindset.
a. Dynamic Forms
In Dynamic Forms, now we can:
Drag and Drop fields directly on the same form, without adding them separately to page layouts.
For better User behaviour, we can set the visibility rules in dynamic forms who can see what and when.
As mentioned in Dreamforce '22, Dynamic form is now available for over 1000 standard objects and also available for the Salesforce mobile app.
b. User Access
One of the coolest features is the available "View Summary(Beta)" action. With View Summary Action, within a single click, you can view all permissions in a summarized way including user permissions, object permissions, field permissions and more.
c. Prompt Builder
Prompts are the mechanism for communicating with a large language model (LLM), which is the algorithm behind generative technologies like ChatGPT.
The prompt templates make our daily life easier and business smarter. Prompt Builder also uses Flows to incorporate into your templates and creates dynamic prompts that go far beyond connecting record fields.
Prompt Builder will be in pilot generally available by October 23.
The first two types of templates that would be available are Email Generation and Field Generation.
Email Generation: With Email Generation, you can automate creating emails with just clicks from respective data. Joseph, one of the members of sales people often struggles in generating emails which often requires more time.
With Prompt Builder, it has become much easier for salespeople to generate emails. They also make sure they have included merge fields that use Salesforce data into the template.
Field Generation: Integrate AI-powered generation workflows with any field in your Salesforce records to automatically generate summaries and descriptions based on your data. Suppose we are having comments field on the respective record, with a single click Einstein will propose suggestions for field values.
To make this work, just need to include the Prompt Template by navigating to App Builder and adding in the respective Comment field of Dynamic form.
Image Source – Salesforce
Conclusion
This is all about Dreamforce 23 admin keynote highlights. The Dreamforce 23 Admin keynote has certainly set the stage for an exciting year ahead, and we look forward to seeing how these developments will shape the future of Salesforce administration and user experiences.
Stay tuned for more updates and be ready to embrace the transformative power of these groundbreaking announcements.
Get a complete Roadmap To Learn Salesforce Admin And Development 👇