In a rapidly evolving digital landscape, the need for efficient, user-friendly tools to streamline business processes has never been more critical.
Jotform, a brand trusted by over 20 million users worldwide, offers a suite of powerful forms and no-code solutions designed to meet the diverse needs of small businesses and enterprises alike.
Streamlining Your Salesforce Experience
At the core of Jotform's offerings is their Form Builder—a versatile tool that enables users to create custom forms effortlessly. What sets Jotform apart is its seamless integration with Salesforce, ensuring that your account is always up-to-date with each new form submission.
This synergy between form creation and data management simplifies the workflow, eliminating the hassle of manual data entry.
Whether you are a nonprofit transitioning to digital applications for beneficiaries, a healthcare provider recording orders and invoices from medical practices, or a large enterprise managing over 75,000 clients, Jotform for Salesforce is designed to seamlessly adapt and grow in tandem with your specific requirements.
How to use JotFrom with Salesforce?
Discover JotForm on AppExchange and kickstart your JotForm journey with a free account.
On the Top left-hand side, click on App Launcher and select the JotForm application.
Now that we've integrated JotForm with Salesforce, you'll notice it seamlessly operates within the Salesforce interface, providing a unified experience.
To create a form, click on the Create form button on the top left-hand side.
You'll now have access to various options for creating forms, whether you want to start from scratch or choose from the available options of pre-made templates.
Click on Use Template and choose from 10,000+ templates to create your form in a few minutes.

After choosing a template, you can easily configure the form to generate a new Salesforce record for the relevant object.
To include a signature in the form, you can enable the JotForm Sign Automation.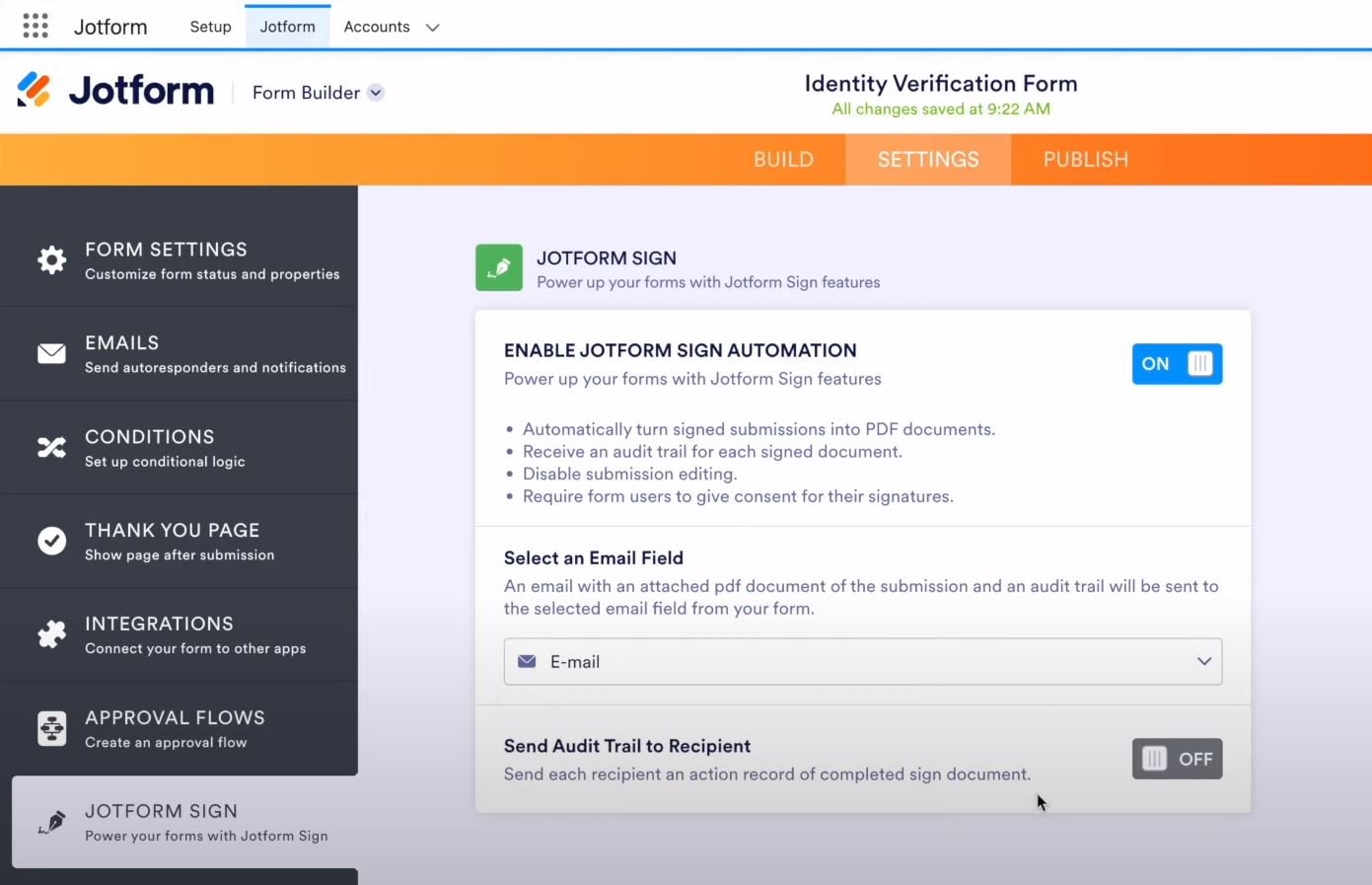 After submitting the form, it stores all the collected information in JotForm tables alongside the Salesforce object records.
Here's why you'll love Jotform for Salesforce:
Seamless Integration: This new form solution is automatically integrated with your Salesforce objects and fields, eliminating the need for platform switching.
Your customer data flows effortlessly, ensuring that your CRM workflows truly automate your busy work.
Industry-Leading Automation: With Jotform's industry-leading automation directly in your Salesforce environment, you can create more reliable and productive workflows. No more manual tasks—Jotform does the heavy lifting for you.
Automated Data Integration: Bid farewell to the time-consuming tasks. Jotform ensures that your customer-facing forms sync seamlessly with your Salesforce database, promoting accuracy and saving you valuable time and money.
Top-Notch Security: Jotform's app aligns with Salesforce's security standards, offering industry-leading form and CRM data security and regulatory compliance.
Curious about the benefits? You can try the JotForm for Salesforce on AppExchange for free to experience the transformation yourself.
Industries that Benefit from JotForm
Jotform isn't limited to just one industry; it's a versatile solution that caters to various sectors:
Nonprofit: Nonprofits can seamlessly sync donations, applications, program registrations, and event collateral collected through Jotform to Salesforce. Features like Donation Apps and approval workflow automation within Salesforce further enhance their operations.
Healthcare: Healthcare professionals and suppliers alike use Jotform to create invoices and HIPAA-friendly appointment forms. They can sync related contact data to custom objects in Salesforce, ensuring compliance and efficiency.
Sales: Sales teams can't afford manual data entry. Jotform and Salesforce streamline lead management, proposals, estimates, and customer order forms. It's a game-changer for re-engaging the existing customer base with prefilled forms.
Agencies and Trade Desks: Companies selling services, collecting payments and applications, and tracking applicants find Jotform invaluable. It simplifies their workflow, making Salesforce integration a breeze.
JotForm's Product offerings
Jotform offers an array of solutions tailored to your business needs:
E-Signatures Redefined
JotForm Sign is a game-changer in collecting signatures. With over 600+ free e-signature templates, it expedites the signature collection process and enhances document organization and tracking. It's secure and compliant with data protection regulations.
An e-signature is a digital version of a handwritten signature, signifying agreement or approval without using physical paper.
You can generate your free e-signature effortlessly by accessing the free online signature generator by JotForm.
You can choose from various signature styles by clicking on the 'Change Style' dropdown.
Benefits of using e-signatures:
Streamline document distribution, signing, tracking, and storage with automated processes, saving valuable time for business growth.
Ensure the safety of your documents and signer identities through digital certificates, encryption, and robust security measures. Standards like eIDAS, the E-Sign Act, 2FA, encryption, time-stamping, and biometrics enhance data protection.
Cut down on expenses associated with manual distribution and tracking of physical documents. Shift to online signatures to save both time and money.
Allow signers to electronically sign documents anytime, anywhere, and on any device, eliminating the need for face-to-face meetings. Send documents instantly via email, links, or file-sharing services for rapid processing.
Reduce your carbon footprint by eliminating paper and ink usage, making the signature process more eco-friendly. Electronic signatures save resources and energy compared to physical document handling.
PDF Editing Made Easy by JotForm
JotForm PDF Editor offers a hassle-free way to edit PDF files and generate polished documents from collected data. Thousands of ready-made templates simplify the process.
With Jotform PDF Editor, making your PDF is easy – no technical skills are needed. Just drag and drop form elements to create a custom document.
With Jotform PDF Editor, you can easily send your documents to cloud services such as Google Drive and Dropbox automatically.
You can quickly resize your PDF and switch between landscape and portrait orientations with just a few clicks.
Prefill
To boost conversion rates and streamline form-filling, Jotform Prefill pre-populates form fields, enhancing user experience and accelerating data collection.
To access Prefill in the Form Builder, navigate to the Publish tab and click on Prefill on the left.
Benefits of using JotForm Prefill:
Increase in form completion rate
Save customers time by sending prefilled forms that already have their information valuing customers' time.
Prefilled forms prevent errors by using accurate data from past submissions and avoiding typos.
Seamless Approvals
Jotform Approvals simplifies complex approval processes with automated reminder emails, conditional branches, and prefilled forms. It's the key to efficient workflow management.
Built to meet today's organizational demands, Jotform Approvals offers more features specifically for approval flows.
Payment Integrations
JotForm offers payment processor integrations for secure online transactions, making collecting payments without additional transaction fees a breeze.
Select your preferred payment gateway, integrate it into your online order, donation, or payment form, and embed it on your website, or share it via a link to start receiving payments effortlessly.
Enhance your business and accept online payments with Jotform's payment processor integrations, all without incurring additional transaction fees.
How to add a Payment Gateway to your Form?
To begin, open Form Elements by clicking "Add Form Element" in the upper-left corner of the Form Builder.
In the left-hand Form Elements pane, navigate to the "Payments" section at the top.
Select your preferred payment gateway by searching and clicking on it.
Integration with General Tools
JotForm's forms can be effortlessly integrated with a wide array of tools, including Salesforce, Slack, Mailchimp, and many others, enhancing your efficiency and productivity.
Advanced Security Compliance
Jotform prioritizes data privacy and security, ensuring that your data is safe and compliant with industry standards.
Irrespective of your plan, all your forms are delivered over a secure 256-bit SSL (Secure Socket Layer) connection equipped with a SHA256 Certificate.
Jotform's HIPAA features empower healthcare providers to gather patient information via forms designed to ensure HIPAA compliance.
Jotform is dedicated to maintaining the integrity of all five SOC 2 Trust Service Principles: security, confidentiality, availability, privacy, and processing integrity. JotForm provides a SOC 2 compliance solution tailored for its Enterprise customers.
In conclusion, Jotform is more than just a form builder—it's a comprehensive suite of solutions designed to empower organizations to transition from busy work to less work.
With an impressive range of features, templates, and integrations, Jotform adapts to your needs, revolutionizing your workflows and boosting productivity.
Whether you're a small business looking to simplify operations or an enterprise seeking robust solutions, Jotform is your answer.
If you're on a Jotform Starter plan, you can use up to five forms and receive 100 monthly submissions for free. To get more forms or storage consider upgrading to a paid plan.
If your requirements surpass the Starter plan, you can explore the following  single-user plans: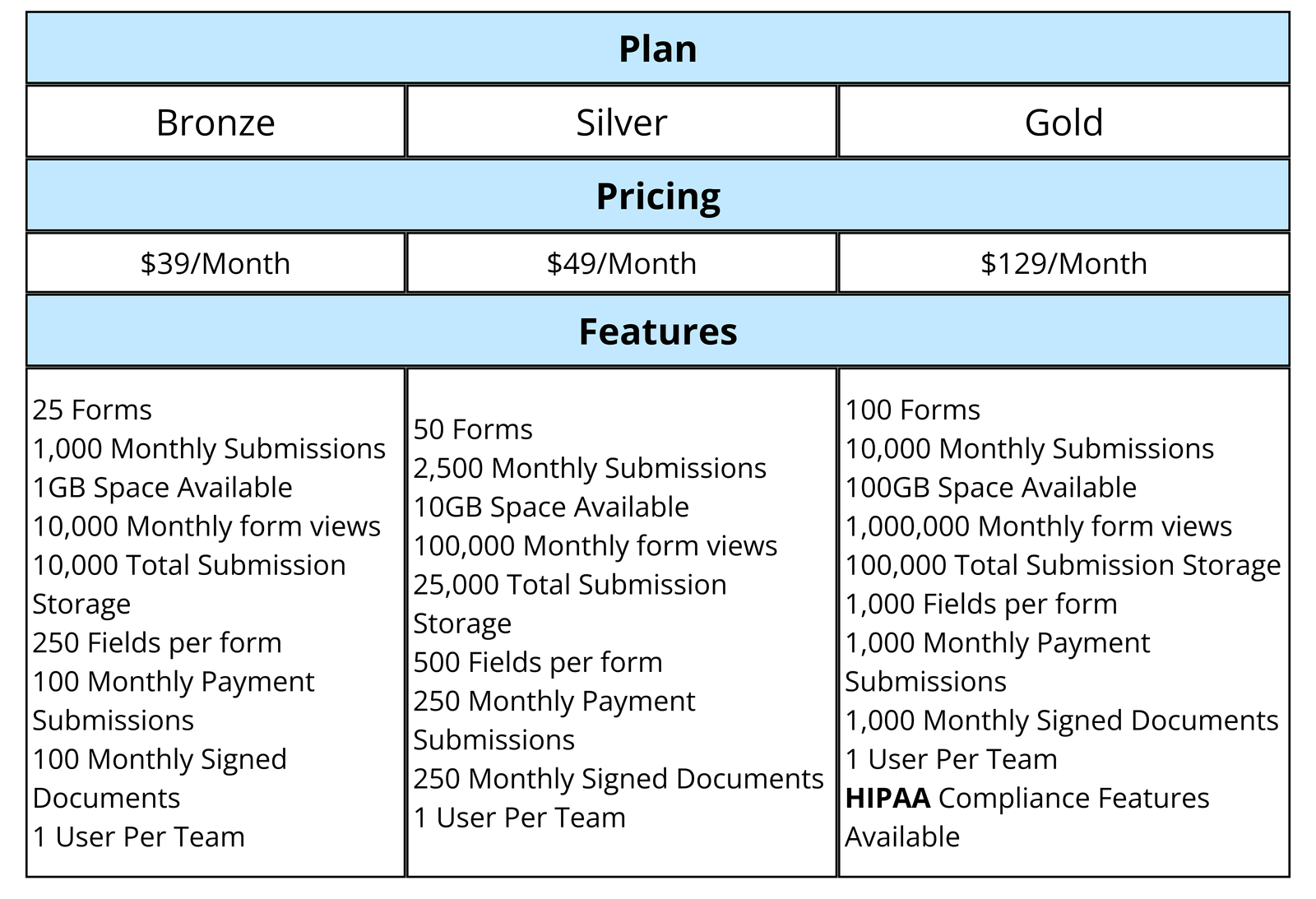 If you are a Nonprofit organization your firm automatically qualifies for discounts on the subscription plans.
Try out Jotform for Salesforce today and let us know how you feel about it. Plus, feel free to drop a review in the Salesforce AppExchange.
Learn more about how you can integrate your Salesforce instance with JotForm👇
Get a complete Roadmap To Learn Salesforce Admin And Development 👇