The Salesforce Optimizer extension is an important tool that assists Salesforce Administrators and Users in enhancing their CRM experience.
Salesforce Users often navigate through various screens and pages to access the data they need and may find it challenging to manage everything, leading to reduced productivity.
In this blog, we will explore key features of Salesforce Page Optimizer and how it can help us in enhance your Salesforce page.
What is Salesforce Page Optimizer?
It is a tool used to analyze and optimize the Salesforce page thereby improving the user experience. It allows you to track various metrics and identify areas of improvement in terms of response time, layout, alignment etc. Hence, it helps in better engagement and productivity.
Introducing Salesforce Page Optimizer Google Extension:
The Salesforce Page Optimizer Google Extension is an add-on that extends the functionality of Salesforce Page Optimizer within your Google Chrome browser. Consequently, this extension enhances your Salesforce experience with added features, making it more convenient and efficient to optimize your pages.
The Google extension uses the AI algorithm to analyze the pages and provide automated suggestions for optimization.
Installing Salesforce page Optimizer
Access the Chrome web store and search for 'Salesforce Page Optimizer'
Choose 'Add to Chrome' to install the extension.
Upon installation, log in using Salesforce credentials.
Key Elements
Insights: 
These are the data-driven suggestions and actionable advice to improve your Salesforce setup. They identify the inefficiencies and provide opportunities for improvement in your Salesforce environment. Salesforce Optimizer examines usage patterns, configuration, and data to provide actionable insights. These insights are organized into categories such as data quality, security, and automation.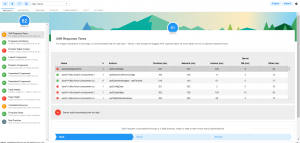 Waterfall Chart:
It is the visual representation of the overall health of the Salesforce Setup. This visual overview of the performance further helps in detecting the areas that need optimization.
In the image below, Green bars represent elements that have a positive contribution to the health of the Salesforce setup whereas the Red bars show the Negative.
Timeline :
It shows the changes made in the Salesforce configuration over some time. A Timeline chart helps to comprehend why and when specific changes were implemented. It displays the Events or actions, data imports and customization over a while.
Charts:
It comprises DOM Element (Count), Aura Component (Count), Memory (MB) and Action Storage Size (KB). DOM Element is a data representation of the Objects. The Aura component count represents the count of the UI framework created to make the web pages for desktop and mobile.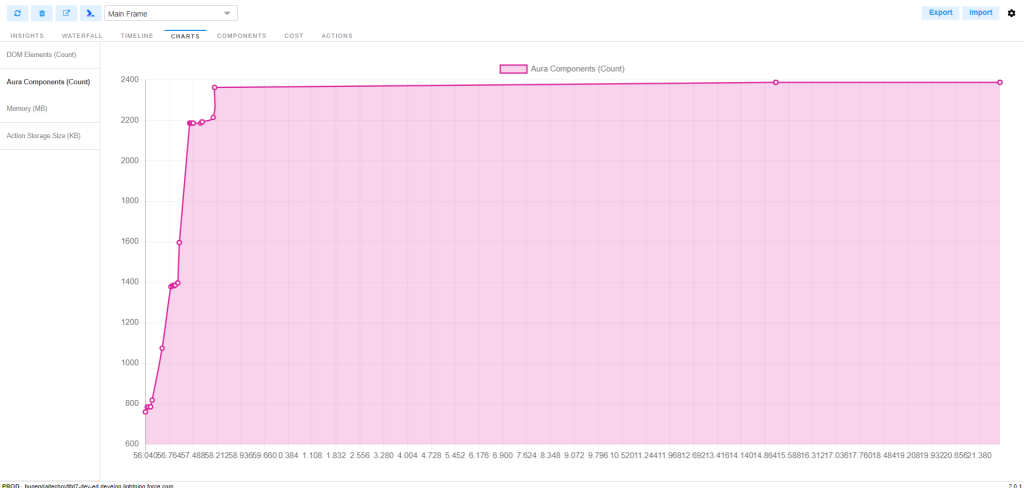 Read more: 12+ Salesforce Chrome Extensions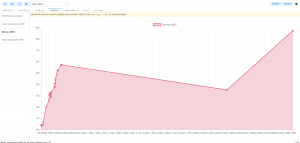 Components:
Represents all the individual components present in the Salesforce org. Checking 'Include Salesforce components' shows all components. We can sort using the 'Options' tab for Show aggregate, aura, UI and lightning on the Options tab.

Actions Tab:
It is used to view and execute all the recommendations based on insight and component analysis. Here, the user performs specific actions such as deleting unused reports and profiles. Enhancement of security settings can also be done.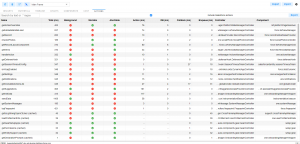 Hence, Salesforce Optimizer provides insights, uses graphical representations such as waterfall and timeline charts, analyzes various components, and provides actionable steps via the Actions tab.
It can assist you in making data-driven decisions, identifying areas for improvement, and ensuring that your Salesforce setup aligns with your business objectives.
Benefits of using Salesforce Page Optimizer:
You can achieve real-time performance tracking by using metrics such as page load time, the number of render-blocking scripts, and overall page size to track the performance. Hence, this can identify and help the user to fix the issue immediately.
Integration with Google Analytics allows tracking the user behaviour and engagement on the Salesforce Page which helps in further Optimization of the Page.
Data quality can be improved by identifying and correcting duplicates, inaccuracies, and incomplete data.
Salesforce Optimizer provides recommendations by identifying the actionable feedback.
Security risks for the implementation can be found out and resolved by following the recommendations.
The visual representation makes it easier to understand how the entire org is performing.
Quick import or export of data from CSV files or using Query can done.
Business Use Cases:
This tool scans the entire organization to identify unused functionalities, such as reports, page layouts, fields, and users.
Salesforce has its governor limits for storage, number of fields etc. It helps in detecting how close we are to these limits.
Salesforce page optimizer improves the overall User experience.
FAQ
1. What are the benefits of utilizing Salesforce Chrome extensions?
They are easy to use and install. The user can select the type of Chrome extension as per problems they run into while implementing different functionalities. For example, if an administrator is looking for metadata, Salesforce Inspector Reloaded is the best tool available.
2. How does Salesforce Page Optimizer help in business?
Using Salesforce Page Optimi improves page load time, leading to an increase in user engagement and productivity. It evaluates page optimization and compliance with Salesforce standards to enhance user experience.
3. Can we customize the recommendations provided by Salesforce Optimizer?
While Salesforce's Page Optimizer provides best practice recommendations, it also enables you to prioritize and choose which optimizations to implement, giving you control over the changes you make.
4. When should we run the Salesforce Page Optimizer?
During the development or customization of Salesforce pages, Optimizer can detect issues and resolve them in the development phase itself.
To ensure the efficiency of Salesforce pages, it can run regularly as part of ongoing maintenance.
Whenever Salesforce releases a new update, Salesforce Optimizer can detect its impact on the custom pages.
Before making any modifications to the production environment, it is better to test the performance of the new customizations using Salesforce Page Optimizer
It can be an important step in Quality Assurance to make sure the Salesforce page meets the desired standards.
Get a complete Roadmap To Learn Salesforce Admin And Development